Tactical Super Director Deanne Firth is finalist under two categories at the SMSF and Accounting Awards 2018
Deanne Firth, Director at Tactical Super, is a finalist under the Auditor of the Year Category at the SMSF and Accounting Awards 2018. Likewise, her audit firm Tactical Super, is one of the finalists under the SMSF Audit Firm of the Year category.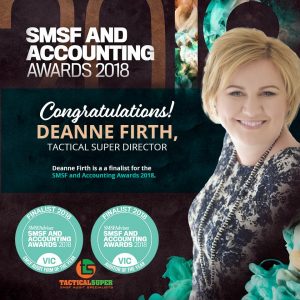 The SMSF and Accounting Awards is the first nationwide industry awards program for state-based performance — recognising excellence in the SMSF advice and accounting professions. These awards acknowledge individuals and businesses who are leading the way in SMSF advice and accounting by championing professionalism, quality advice and innovation.